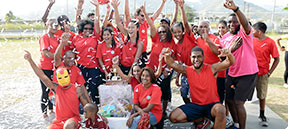 Our Community and Staff
Beacon continues to gain a foothold as a more contemporary, relatable and, visible company capturing the attention of an ever increasing number of people. Our elevated profile has been partly driven by our sponsorships beyond the realm of sport into lifestyle related activities. These have led to a wider reach in our communities touching the lives of people at every level. There was also no shortage of accomplishments enjoyed by Beacon employees. From the celebration of long serving members of the Beacon family and our Sports and Family Day to the action packed Hardcore tournament, staff members are supported on and off the field.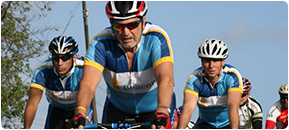 Cycling
"We believe that sport has the power to transform not only bodies, but also minds and attitudes, and we've proven that with our long-term investment in cycling." Having nurtured the sport through its infancy, we have helped to bring it to a level where our races are internationally recognized. Beacon sponsors a wide range of cycling events each year, of which the flagship event is Beacon Trinidad and Tobago Cycling Festival, an exciting, nail-biting race that has become a staple of the international sports calendar, featuring participants from across the globe, including Argentina, Canada, South Africa, Italy, the United States—and, of course, the Caribbean! Beacon also has its own cycling team, Team Beacon, comprising sponsored individual athletes Christopher Sellier, Njisane Phillip and Quincy Alexander. This powerhouse of cycling talent has been doing both country and company proud for years. All three have achieved podium medals and broken world records at international events, and seem to be getting better and better with each race! A wonderful ripple effect of their performance is that more and more children are determined to follow in the footsteps of their role models. We have sought to harness this enthusiasm through Beacon's Cycle Smart Program which teaches kids as young as three years old about road safety and handy techniques for riding their bicycles and tricycles.